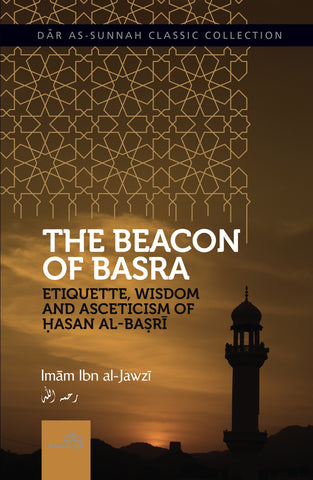 The Beacon of Basra by Imam Ibn Jawzi (d. 597 AH)
---
Please Contact Us if you are interested in this item.
---
The Beacon of Basra
Etiquette, Wisdom, and Asceticism of Hasan al-Basri
By Imam Ibn Jawzi (d. 597 AH)
There are many individuals who left a profound mark in Islam's history; few however, combined within them virtues and qualities that are rarely found in one person. Such was Abu Sa'eed Al-Hasan Al-Basri, the Tabi'i, the Imam of elevated rank, the exegete of the Qur'an, the jurist, the one known for immense worship and given to much asceticism and reflection. Abundant knowledge has been gathered and preserved and passed down the centuries through him.

It is enough of a testimony to appreciate the status of Al-Hasan than the words of the famous Companion, Abdullah ibn 'Umar al-Khattab who said, "Had the Prophet peace and blessings be upon him met Al-Hasan, he would have been pleased with him."

Every work written on the character of Al-Hasan attests to his close resemblance and likeness to that of a Sahabi (Companion of the Prophet peace and blessings be upon him) in terms of his manners and etiquette and worldly outlook. In this short work penned by Ibn Al-Jawzi, he highlights certain aspects of Al-Hasan's life, his morals and the words of deep wisdom and contemplation he is known for.
Readers will no doubt, be moved by Al-Hasan's scattered gems and be inspired to evaluate life's priorities and renew their own commitments.
160 PP