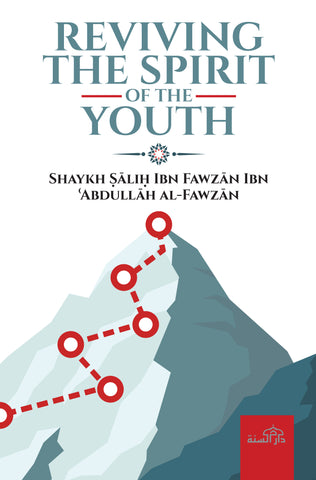 Reviving the Spirit of the Youth by Shaykh Salih Al-Fawzan
---
Please Contact Us if you are interested in this item.
---
Youth are the backbone to any nation; they are the leaders of tomorrow who fuel the future of a society. Thus, they shoulder an enormous responsibility in cultivating a constructive community, which requires characteristics that will equip them in fulfilling this duty.
Thereafter, subsequent generations will carry the baton to greater heights should they inherit virtues of uprightness and steadfastness, placing them in a better position to refine the world around them.
slam places fundamental importance in the well-being of the youth.  As we witness the rise of new trends and their far-reaching influences,  concern over potential harm is elevated due to their consequences that  follow: impairing the lines between good and bad, right and wrong.
In this timely publication, we are introduced to a basic outline of the role the youth play in society, and some of the problems and challenges they face at this crucial stage of life. A number of practically effective solutions and their virtues are highlighted to assist in mitigating the issues that are mentioned, alongside the wider tangible benefits they offer when implemented accordingly.
This book belongs to every young person, male or female, who aspires to achieve great heights in this world and the next. It speaks to every soul that wants be successful: motivating you to take advantage of this life, advising on how to plan for a better tomorrow, and much more. But it also signposts you to be cautious of the plots and plans that lead to failure. If you want to leave behind a legacy then this sincerely simple book will show the way, Insha'Allah.